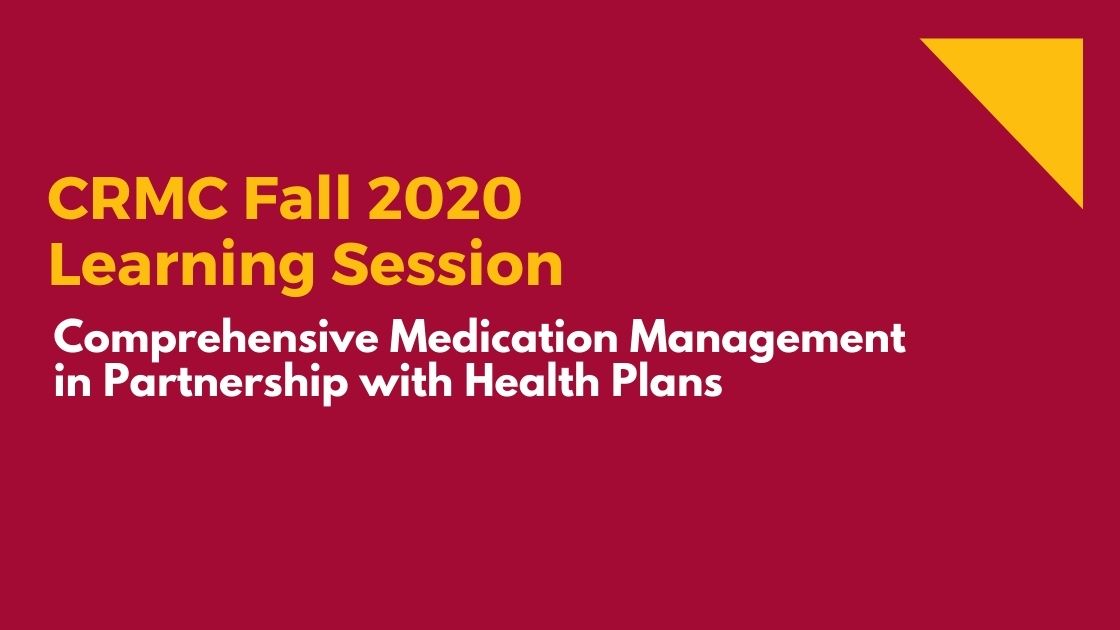 CRMC Fall 2020 Learning Session
Register by Friday, September 25th
Spaces are limited and may be filled before the deadline. Early registration is encouraged.
The California Right Meds Collaborative (CRMC), in partnership with Los Angeles County Department of Public Health, CDC, L.A. Care Health Plan and Inland Empire Health Plan, is curating a network of pharmacies to deliver Comprehensive Medication Management (CMM) services to address the high burden of chronic diseases in local communities.
Target Audience
Pharmacists and leaders of health plans and government healthcare organizations interested in joining CRMC to implement or advance CMM services for high-risk patients in alignment with population health priorities.
Goals
Advance strategies and infrastructure for sustainable CMM services designed to improve health outcomes while lowering total cost of care for patients with uncontrolled chronic diseases.
Objectives
At the completion of the learning session, participants will be able to:
Explain how leadership is a self-accountability
Utilize bold aims to generate and evolve systems and results
Cultivate a powerful shared mindset through leadership speech acts
List current priorities and challenges of CDPH administration
Summarize CDPH strategic plans and priorities that align with the work of CRMC
Describe the current state of detection and control of risk factors associated with cardiovascular disease in Los Angeles County
List LA County resources and programs to support better results for patients with hypertension, diabetes, and other common chronic diseases.
Select relevant resources within the CRMC Implementation Handbook for initiating, improving, or advancing a CMM practice
Identify current and evolving challenges and priorities related to chronic disease control, including impact of COVID-19
Describe general direction and strategy moving forward, and alignment with CRMC (Why should other health plans join?)
Describe the transition and challenges in initiating or advancing CMM services
Explain the value of working with all CRMC stakeholders (fellow pilot pharmacists, health plans, schools of pharmacy) to advance CMM services
Develop workflow to accommodate CMM service delivery
Refine workflow through rapid iterative change cycles, e.g., PDSA
Explain key differences between a Collaborative Practice Agreement and protocol
Construct a collaborative practice agreement, protocol, etc., in accordance with legal and regulatory requirements that aligns with the risk tolerance of partnering organizations
Formulate a personal branding strategy that promotes the benefits and quality of clinical services offered (increase patient trust/confidence, promote legitimacy of services, physicians testimonials, host map of participating pharmacies on CRMC website, have participating pharmacies listed with photos of CMM pharmacists on CRMC websites, etc.)
List challenges unique to homeless patients in the course of providing CMM
Develop solutions to overcome medication treatment success barriers for homeless patients
Apply strategies for acquiring medications for patients who have very limited disposable income
Compare different approaches to engaging homeless patients as a healthcare provider
List critical variables and barriers to consider in order to successfully improve health outcomes for homeless patients
Select an appropriate frequency of follow-up based on individual patient / clinical needs
Leverage other individuals or strategies to provide effective follow-up care and monitoring
Establish a system for patients to contact pharmacist providers regarding home self-management / monitoring results
Provide culturally sensitive care to diverse patient populations
Recognize and overcome personal cultural biases
Incorporate proven techniques for patient engagement
Speakers
Steven Chen, PharmD, FASHP, FNAP, Associate Dean for Clinical Affairs, USC School of Pharmacy
Dennis Wagner, MPA, Former Director, iQuality Improvement & Innovation Group, Center for Medicare & Medicaid Services. Former Director, Office of Health Information Technology and Quality, Health Resources & Services Administration (HRSA.gov)
Jessica Nunez de Ybarra, MD, MPH, FACPM, Public Health Medical Administrator, Chronic Disease Control Branch Chief, California Department of Public Health
Tony Kuo, M.D., M.S.H.S., Director, Division of Chronic Disease and Injury Prevention, Los Angeles County Department of Public Health/ Co-Program Leader, Population Health Program, UCLA Clinical and Translational Science Institute
Connie Kang, PharmD, Assistant Professor of Clinical Pharmacy, USC School of Pharmacy
Alex Kang, PharmD, APh, BCPS, BCACP, BCGP, Director, Clinical Pharmacy, L.A. Care Health Plan
Edward Jai, PharmD, Senior Director, Pharmaceutical Services, Inland Empire Health Plan
Annie Thai, PharmD, 986 Pharmacy
Janice Cooper, PharmD, CDE, Manchester/ Hawthorne Professional Pharmacy
Christal Pham, PharmD, Assistant Director of Clinical Pharmacy, Western University of Health Sciences
Michelle Chu, PharmD, BCACP, APh, Assistant Professor of Clinical Pharmacy, USC School of Pharmacy
Paul Gregerson, MD, Chief Medical Officer, Internal Medicine Specialist, John Wesley Community Health Institute/ Coordinator, National Health Care for the Homeless Council
Nader Tossoun, PharmD, Knollwood Pharmacy
Jessica Abraham, PharmD, APh, Director of Population Health, USC School of Pharmacy
Bianca Lee, PharmD, USC School of Pharmacy