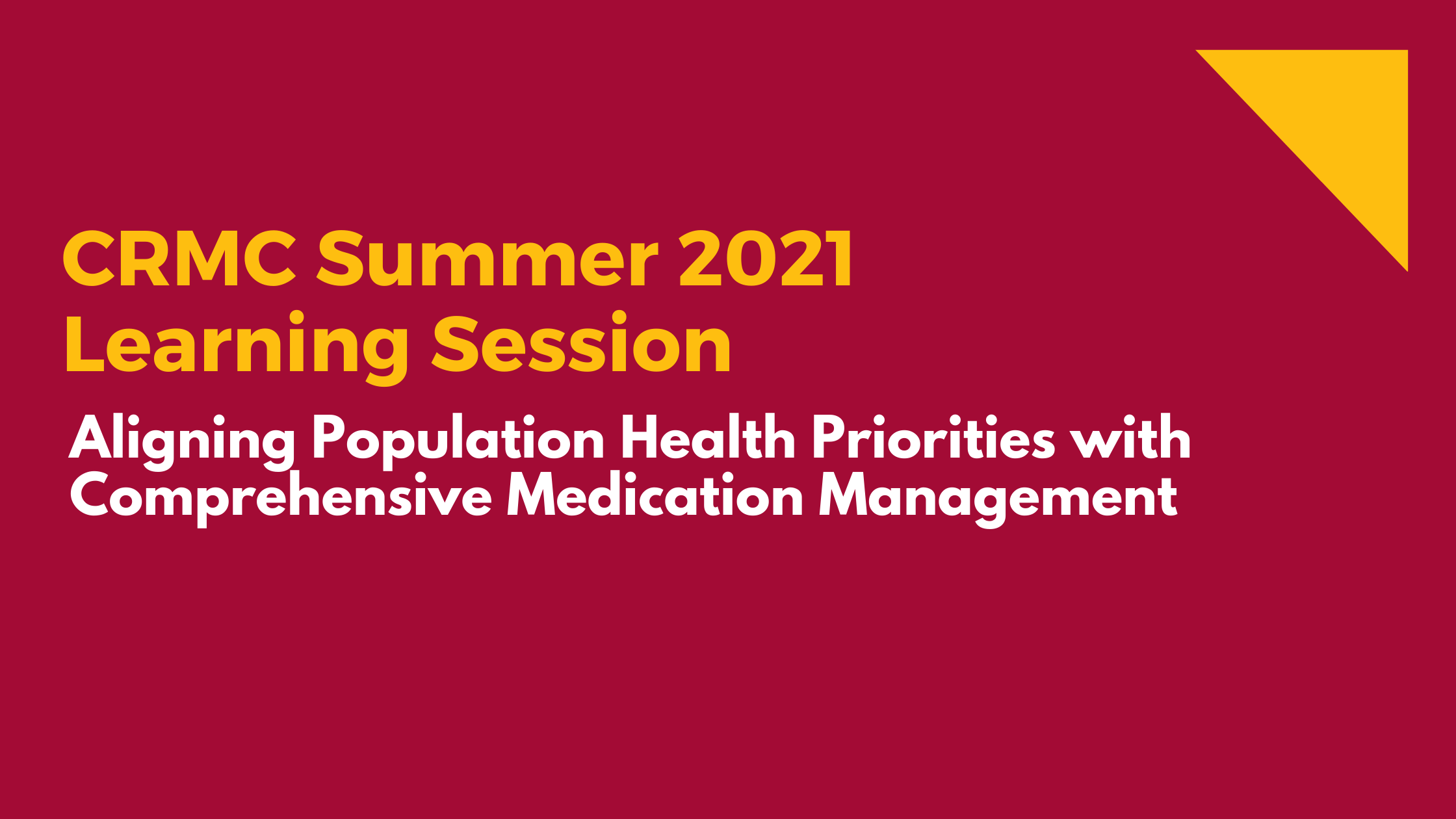 Date
Jun 27 2021
Expired!
Summer 2021 Learning Session
Register by Friday, June 18th
The California Right Meds Collaborative (CRMC), in partnership with Los Angeles County Department of Public Health, L.A. Care Health Plan, Inland Empire Health Plan, and Brand New Day Health Plan, is preparing community-based pharmacists to successfully deliver Comprehensive Medication Management (CMM) services to address the high burden of uncontrolled chronic diseases in local communities.
Target Audience
Pharmacists and leaders of health plans and government healthcare organizations interested in joining CRMC to implement or advance CMM services for high-risk patients in alignment with population health priorities.
Goals
Advance strategies and infrastructure for sustainable CMM services designed to improve health outcomes while lowering total cost of care for patients with uncontrolled chronic diseases.
Learning Objectives
Total CE hours: 6.0 hours
9:20-10:55am: KEYNOTE-Physician Leadership Perspective and Generating Disruption (1.5 contact hours)
Share insights on the value health plans are seeking from adding a clinical pharmacist to the healthcare team

Incentivize health systems to partner with clinical pharmacists

Describe health plan strategies for funding Comprehensive Medication Management services (e.g. payment models, P4P alignment, medical benefit vs. pharmacy benefit, etc.)

Practice and nurture a mindset for generating innovative ideas 

Form connections between otherwise disparate concepts and ideas 

Select relevant resources within the CRMC Practice Alignment Guide for initiating, improving, or advancing a CMM practice
UAN: 0007-0000-21-005-L04-P Knowledge-Based
11:05am-12:35pm: THE CRMC JOURNEY: Progress, Challenges, and Successes (1.5 contact hours)
Identify current and evolving challenges and priorities related to chronic disease control, including impact of COVID-19

Describe general direction and strategy moving forward, and alignment with CRMC (Why should other health plans join?) 

Develop strategies for expanding a CMM program despite challenges including the COVID-19 pandemic 

Formulate a plan to improve efficiency and effectiveness of CMM services 

Describe direct and indirect patient care services that leverage the unique skills of clinical pharmacy technicians
UAN: 0007-0000-21-006-L04-P Knowledge-based
1:15-2:45pm: Patient Engagement and Activation (1.5 contact hours)
Use OARS to support active listening 

Recognize personal roadblocks to active listening and practice approaches that avoid these

Utilize the Readiness Ruler or similar approach to gauge a patient's preparedness for change and probe the reason for his/her response

Apply strategies for overcoming barriers to implementing shared decision making from the patient perspective
UAN: 0007-0000-21-007-L04-P Application-Based
2:55-3:45pm: Breakout Session 1A (.75 contact hour)– Advanced Clinical Skills for Diabetes and Hypertension
Develop strategies for overcoming common challenges in management of diabetes and hypertension in CMM

Discuss clinical instances to consider exceptions to strict glycemic control 

Consider health plan priorities in clinical decision making when providing CMM to patients with diabetes and hypertension
UAN: 0007-0000-21-008-L01-P Knowledge-Based
Breakout Session 1B: Video Telehealth: Best Practices
Identify free and low cost video telehealth platforms for the delivery of CMM

Develop or refine a video telehealth workflow process that optimizes delivery of CMM services

Share solutions for ensuring that telehealth services are simple and comfortable for patients to use
UAN: 0007-0000-21-009-L04-P Knowledge-Based
3:50-4:40pm: Breakout Session 2A– Psych Essentials for Primary Care/Comm Pharmacists (.75 contact hour)
Identify opportunities to intervene on psychiatric medication therapy in community or primary care pharmacy settings

Conduct an evaluation of patients treated for depression and/or anxiety to determine whether a medication therapy intervention is necessary

Identify patients with severe mental illness who need referral to a mental health specialist 
UAN: 0007-0000-21-010-L01-P Knowledge-Based
Breakout Session 2B– Launching CMM services through CRMC:  Workflow adaptations, support services, and patient enrollment strategies
Describe key workflow adaptations to implement or advance CMM in a community pharmacy.

Summarize the types of support an enrolled community pharmacy can expect from a CRMC health plan.

Demonstrate the dynamics that optimizes the relationship and shared goals of the CRMC community pharmacy and health plan. 
UAN: 0007-0000-21-011-L04-P Knowledge-Based
Speakers
Michael Hochman, MD, MPH, USC Gehr Center for Health Systems Science & Innovation, Associate Professor of Clinical Medicine, USC Keck School of Medicine
Matthew Manos, MFA, Assistant Professor of Teaching and Design, Iovine and Young Academy, University of Southern California
Connie Kang, PharmD, Assistant Professor of Clinical Pharmacy, USC School of Pharmacy
Diane Yoon, EdD, Associate Director of Continuing Professional Development, USC School of Pharmacy
Alex Kang, PharmD, Director, Clinical Pharmacy, LA Care Health Plan
Edward Jai, PharmD, Senior Director and Chief Pharmacist, Inland Empire Health Plan
Eddie Lee, PharmD, Vermont VO Pharmacy
Ramesh Upadhyayula, PharmD, Desert Hospital Outpatient Pharmacy
Jennifer Yacco, CPhT, Inland Empire Health Plan
Ben Hernandez, CPhT, Inland Empire Health Plan
Dri Wang, PharmD, BCPP, Senior Medical Sciences Liaison, Otsuka Pharmaceuticals; Adjunct Faculty, USC School of Pharmacy

Hanna Sun

g

,

PharmD, BCACP, BC-ADM, APh,

Manager, Ambulatory Care Pharmacy Practice




Pharmacy & Formulary, L.A. Care Health Plan

Sahar Dagher

, PharmD,

APh,

Clinical Pharmacist,

USC

Schoo

l of Pharmacy

Lisa Goldstone

,

PharmD, MS, BCPS, BCPP,

Associate Professor of Clinical Pharmacy and Associate Director of Residency Programs

,

Clinical Pharmacy

,

USC Schoo

l of Pharmacy